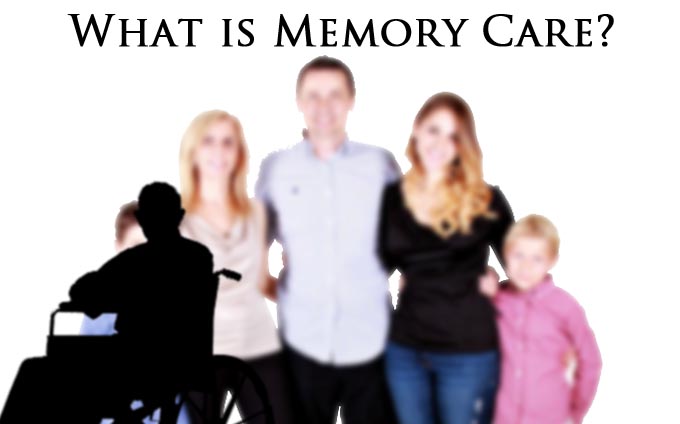 Have you been searching "what is memory care" for you to better understand the services that are offered by a quality assisted community? If you have, this article will help you comprehend the memory challenges that a person faces and just how our memory care can enhance and enrich their personal lives.
A lot of us associate elderly people with being frail, wrinkled skin, failing eyesight and arthritis of their joints. But as we all know, as we age, our mind will eventually start to show its age in a way of forgetfulness or loss of memory. And it doesn't really matter if they honestly forgot where they placed their glasses or when their next doctor's appointment is.
This can be very distressing and it is typically a part of dementia or Alzheimer's. Although medication for arthritis is readily available, and you can get reading glasses at the corner drugstore, curing a mind that has dementia or Alzheimer's is not completely possible which will leave your friends family with getting accustomed to their condition.
Our team at Ventana Winds Retirement Community is committed to finding your loved one a memory care community, in a remarkable location, with all the facilities that your loved one will need for the right price.
The Basics of Memory Care
Dementia and Alzheimer's are very familiar types of memory loss circumstances that will be included in memory care. This is a dedicated care that will go through a variety of services that will depend on the seriousness of the symptoms, like 24 hour emergency call service.
Memory care will go further than what is typically offered in assisted living. Housekeeping, the preparation of food, and clothes washing services are generally provided, but the level of needed assistance with daily activities is increased. There also may be times when daily activities are designed specifically for a person that will allow them to reconnect with their interests or old hobbies.
As the communities can recognize the care challenges for elderly people who have dementia or Alzheimer's, they may just provide memory care or, for continuing care communities may provide a neighborhood strictly for memory care. More often than not, it is these communities that will have fixed design elements that will lower the stress for those who have dementia or Alzheimer's. These elements will usually include a circular neighborhood design that permits the resident for safer wandering, memory boxes outside of their apartments, with natural lighting. About 6 out of 10 elderly people with Alzheimer's will begin to wander around the community and it is specifically designed to lower the chances of being harmed by wandering, and that may done simply adding security alarms or doing welfare and safety checks.
Community Life
When it comes down to memory care, the amenities are not as captivating like living in an assisted living or independent living community, like having large indoor swimming pools or beauty salons and barber shops. Studies have shown that some who have dementia or Alzheimer's can get disoriented and stressed more easily; it's these communities that are meant to provide a more relaxed setting.
Typically communities will have secured courtyards that will let their residents walk in the patio or garden without risk of wandering off. There are also meeting areas like libraries and cozy lounges that are not uncommon. To make the environment more intimate for its residents, a memory care community will be designed with neighborhood like settings that are equipped with apartments that are situated near common areas. Most hallways will be brilliantly colored that will help residents find their way around.
There are also apartments that are available in private and companion options. If you choose, there are 1 bedroom apartments available. These apartment types do not have kitchenettes because all comforts are kept at a minimum to keep stress levels down. To help a resident to find their way, some communities have memory boxes that are filled with little keepsakes from their life.
The dining area will be set up in a family way, so the residents can gather together for meals. Some dining rooms will have tropical fish tanks, which will help increase appetites based on research. Attention is made to create a contrast between the color of the food and the plate to help the residents see the food much clearer.
There will even be activities that are made around the interests of the residents so they are able to reconnect with their memories. They also have music, art classes and games as well as exercise classes. Some communities will even have escorted outings.
Offered Services
Memory care communities are equipped with staff that is able to handle life responsibilities like as laundry service, meal preparation, housekeeping and even transportation services. There is even assistance with daily activities as part of their regular services.
Memory Care Costs
Because dementia and Alzheimer's patients are in need of higher care levels, the cost of memory care is going to be a little higher than the cost of an assisted living community.
The monthly rates for many of these communities will include services, utilities, and rent; but phone and cable may come at an extra charge. There could also be a one-time community fee and there may also be an assessment fee. The care costs will be based on individual persons needs. Some communities will have different packages for care that can range from hands on assistance, to minimal cueing. This allows the family to select the level of care to meet the needs of their loved one.
Selecting a Memory Care Community and What Should Be Expected
Due to the higher costs that come with memory care, you could go the less expensive route and go with assisted living for your loved one. The truth is that most assisted living communities will only have light memory care. This is for those who are not prone to wandering off or for those who need a more enhanced environment. For those who need constant attention or those who happen to wander off a lot, memory care communities will be the best bet.
It may be difficult to find a community within a rural area that offers memory care. Out of senior living communities that have memory care services only around 27% of those will have residents that have dementia or Alzheimer's. There are some communities that are out there that will only provide memory care while other communities will also provide assisted living.
Larger communities will often be the only ones that offer memory care, and you could be cautious about signing your loved one up as they may not get the hands on care they need. Typically memory care communities have been designed with a neighborhood type styling and will have common areas that are duplicated. This helps to give residents a homey atmosphere in a larger setting.
Once you have selected the community that your loved one likes, you will then begin the assessment process to see if they will fit into the community. At this time you can see if the community will be able to provide the care that is needed for them. Depending on their assessment policy, there also may be a nurse that comes to your home to assess your loved one. It is very important that you be truthful about how they act, and if they have any issues with wandering off or trouble with walking, this is done so that the nurse can create a customized care plan for their needs.
Finding the Inspection Records for the Community
Unless the services that are offered like medication management and living assistance are provided by a 3rd party home care company, most memory care communities will be inspected and then licensed by the state. These inspections are all on record and you can get them from the state using an online request or public records request. When the memory care community is part of a larger community, the community may be under the name of the facility, not the individual campus.
There are states that will require a community to make inspection results readily available or post them for the public to view. Viewing years of records will let you see if there is a pattern of violations or failing to follow procedures whether they are just minor infractions or life threatening situations.
Touring the Community
It is very important that you visit the community that you have chosen to see if your loved one is going to fit in. Touring the facility at different times is suggested, that way you can see the residents and staff throughout the day instead of during lunch or activity times. Touring memory care facilities can be a little overwhelming to start with, so bring a checklist to make notes of the various features it has to offer. Make sure to trust your instincts. Be sure that you are using your senses to study what is around you. If you notice that the building is in disarray, needs repairs or it if smells like urine, then it is totally a red flag. Move on.
You will want to also make sure that the staff is certified. Memory care training is a plus, because it will help to ensure you that your family member is cared for by those who understand how dementia or Alzheimer's work. Be sure to ask if the facility provides any specialized programs for memory care. Because of the unique challenges that come with dementia and Alzheimer's care, there are many communities that have specialized programs that will guide just how the residents will be cared for and make sure that their needs are correctly handled.
Moving into the Community and Life Afterwards
Once you have selected a facility you are both comfortable with, you may loathe the trauma of the transition. But, there are steps that you can take to make it less traumatic. One of them is to establish and then stick with your story, this is going to be essential. It is in this situation that you have to be prepared to have a story about why they can't go home like the home is being repaired or it is being remodeled. Having the room move-in ready as well as decorated can help the transition and reduce the stress caused by moving. Some communities will also help you accompany your loved one to the facility. When they have moved in, they may not want to join the community life and will often ask to leave. Eventually they will settle down into a routine and accept that the community is their new home.
Memory Care At Ventana Winds In Youngtown, Arizona
We invite you and your loved one to come and tour our memory care facility in Youngtown, Arizona and find out why our residents love to live in our compassionate and welcoming community. Take a look at our memory care page to see pictures, find out more about the facility, amenities, what is included in rent, and more. Call us at 623-323-1796 for more information or to schedule a tour of our facility.