Retirement Wishes – 100 Quotes Continued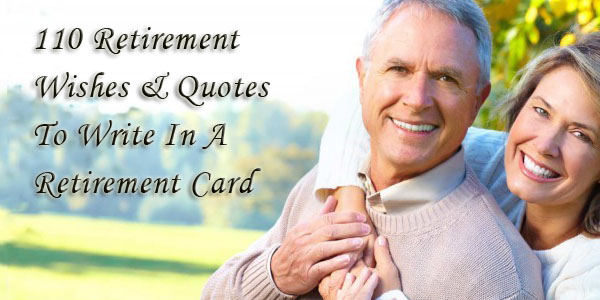 Retirement Wishes Continued – Looking for retirement quotes, wishes and sayings or what to write in a retirement card? Great, we have pulled together all of the retirement wishes from all over the internet. Here are the top 100 retirement wishes, sayings and quotes for what to write in a retirement card.
Retirement Wishes Continued:
Think about it, now you never have to ask for a day off again. Happy Retirement!
Happy retirement wishes! Wishing you all the best in your new retired life. 

All the best for an amazing retirement! Enjoy your new chapter in life, where you become your own boss.

As one chapter ends, another begins, welcome to your new found freedom! 

When someone as wonderful as you finally gets to retire it makes my heart melt! Congrats and all the best to your relaxing years ahead!

Are you ready for that golf trip you were always telling me about? Enjoy your golf retirement! 

You will always be remembered for your accomplishments. Thank you for your years of hard work and dedication to our team, and congrats on your retirement!

Retiring means less responsibility and "almost" no work. Please let me know if you need help finding things to do, my garage could use a once over ha ha ha! Congrats (insert name)! 

Now that you're retired you can do all the things you enjoy. Have a happy retirement!

Now that you are retired, what are you going to do with all of that free time? I could fill up your Tuesday's with coffee and gossip? What do you say? Enjoy yourself out there! 

Enjoy the fruits of your hard labor. Here's to wishing you a relaxing and wonderful retirement.

I'm so happy to see you reach your goal! Retirement holds new beginnings for you. Seek out everything that retirement has to offer you. 

You've worked your entire life for this day, you deserve it, and all the best for a happy retirement!

You are an amazing co-worker, I will never forget all the little tips and tricks you taught me along the way. You are an inspiration to us all. Congrats on your well deserved retirement days. 

Thank you for being an amazing example for me and our team. Your dedication and hard work is really inspiring! I will never forget you for that! Enjoy your retirement!

You have made us and the company better, and for that we thank you. Enjoy your retirement! 

Thank you for always challenging us to become the best at what we do. Congrats on your retirement!

Now that you're retired, you get to spend everyday with your wife. I'm sure you can't wait to get your green thumb dirty again! Enjoy it. 

All of the wonderful things you've done for us will not be forgotten. Congrats on the fruits of your hard labor!

Leave your past behind and embrace your new future. Work it over, retirement is here! Let's go!

Retirement is all about embracing your future and leaving the past behind. Enjoy the years ahead!

Are you seriously retiring already? It seems like you just started yesterday. You will be deeply missed my friend! 

All The Best wishes on your early retirement. Enjoy the new opportunities to do fun and wonderful things just for you.

Thank you for inspiring us all to do our absolute best. You are a very motivating and pleasant person to work with. You will not be forgotten after you retire! 

Thank you for always motivating us to do our best. We wish you an amazing retirement with years of enjoyment to come!

You are a true friend! Our years of work together have showed me that you can love your work if you love the people you work with. Thank you for proving that to me! Happy Retirement! 

You will be deeply missed! You are truly a one in million person that can never be replaced! Enjoy your retirement!

Make sure you enjoy retirement like you enjoyed working with all of us! Send us a postcard from your next trip. 

It's sad to say goodbye, but great to know you are headed on to greener pastures! Congrats!

We hate to see you go, but love to see you walk away… into retirement that is ha ha ha. Congratulations, you deserve it! 

It will be tough to find someone that works as hard and is dedicated as much as you are! Congrats from the whole team!

Say goodbye to slow Mondays and pointless staff meetings ha ha ha! Your new life is waiting for you.

You are one of the hardest working people I have ever met! You earned every single part of your retirement! Great job and adios amigo. 

Retirement is the end of one chapter and the beginning of a new one. Let's hope the next chapter of your life are as good or better as your previous! Congratulations!

You have earned every bit of your retirement days! We are so happy for you! 

Have fun with your new found freedom! Here's to hoping your retirement is a dream come true!

Now that you got your boss off your back you can do what you want, when you want, as long as your wife approves of course ha ha ha!

I'm sure you never thought this day would come… Well other than that calendar you had that marked down the last days until your retirement ha ha ha! Enjoy yourself my friend, you will be greatly missed! 

You deserve retirement! You've worked hard for your family and deserve to take a break! Congrats.

We can tell that you loved your job! Let's hope your retirement brings you the same fulfillment or even more!

Here's to hoping your new found freedom in retirement brings you fun, relaxation and enjoyment! All the best to you.

You will be greatly missed! We hope you enjoy your retirement as much as we enjoyed having you around the office. All the best! 

A wife's full-time job starts when her husband retires. Glad to see you got promoted!

Consider this an extended vacation that never ends… Only you don't get paid days off ha ha ha!

Never again will you have to face dreaded Mondays! Every day for you is the weekend now! Lucky You.

Very few people dedicate themselves to their job the way you have. Now, its time to take some time for yourself and I can only imagine the kind of things you are going to get into.

Travel, relax, enjoy life and spend all the kids inheritance (they will never know ha ha ha). Best of wishes.

Here's to wishing you health, wealth and happiness in retirement. Congratulations to you!

Now that you've retired, you can start doing all of the wonderful things I've heard you talking about over the years! Congrats.

You leave your old boss in the past after retirement and start life with your new boss, your wife. Good luck my friend!
Read More Retirement Quotes
Inspirational Retirement Quotes
Retirement Quotes, Wishes & Sayings
68 Retirement Wishes For A Boss – Canyon Winds Retirement
About Ventana Winds
Ventana Winds Retirement Community is a member of SLS Communities and offers Assisted Living and Memory Care services In Youngtown, Arizona.